Brake Services
at Concord Toyota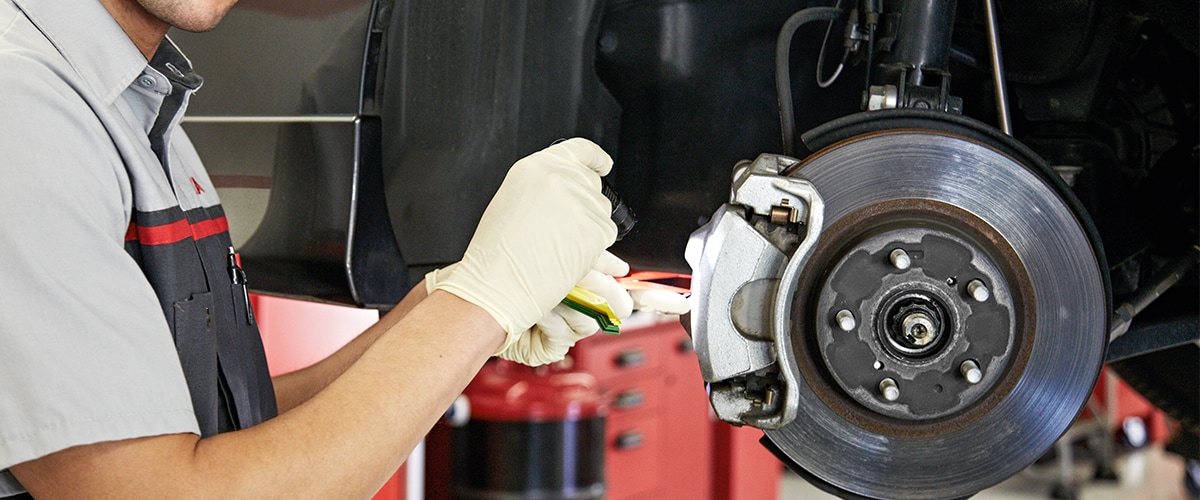 Keep Your Vehicle's Braking Ability in Peak Condition by Visiting Concord Toyota
Brakes are considered one of the most important aspects of your vehicle, right up there with oil and tires. Maintaining your brakes is essential to ensure your safety and the performance of the vehicle. If your brake pads are worn down or not functioning properly, you may find that your braking distances are too long and potentially dangerous. Brake replacements and upkeep are essential to keep you in control and driving smoothly.
When Should I Replace My Brake Pads?
Typically, brake pads need to be replaced every 50,000 miles are so. However, that number may change anywhere between 25,000 to 75,000 miles depending on your driving habits, environment, brake pad hardness, and brake materials. Your owner's manual can give you a clearer idea of what to expect but there are also some warning signs to watch out for.
Some of the signs include:
Squealing or Scraping Noises: Brake pads have small metal hairs at the very bottom to let you know when they are about to run out of gripping material. If you hear squealing, take the giant red flag seriously and find service immediately.
Brake pad thickness: Whether you want to inspect the brake pad thickness yourself or have one of our experienced technicians do it for you, it should be part of your regular maintenance schedule to ensure they are in good condition.
Jittery braking: If you're experiencing vibrations or jitteriness when braking, then the rotors may be warped. This requires cleaning or grinding down the surface of the rotor to make it flat again or a new rotor altogether.
Why Choose Concord Toyota for Service?
As you can see, your brakes require a fair amount of attention and expertise. Our highly skilled technicians can quickly and effectively perform brake inspections, repairs, and maintenance to ensure that your vehicle is braking properly and safely. Take the guesswork out of maintaining your brakes and allow our service team to take care of them for you. Schedule a service appointment today to get your brakes the service they need!